Resume writing is about convincing recruiters and hiring managers that a certain candidate is an ideal choice for a position. This notion comes from his merits and desirable characteristics that make him stand out from the rest of the competition.
This document consists of several sections, each with its purpose and intent, to ensure that professionals have enough to make an educated decision about the candidacy of an aspirant. 
The field of sales is about meeting with prospects, convincing them about the superiority of the product or service, and then closing the deals. In many ways, resume writing and sales work is the same. Even though we cannot educate sales professionals about their job, we can certainly help them develop a resume to land a job. In case you do not have the time to create a resume, you can pay someone to write your resume at Resume That Works.
Why The Best Sales Resume
Just like setting up a stage for prospects to persuade them about products and services, resume writing is much the same. The best sales skills for resumes start with a headline and then ease recruiters and hiring managers into the resume summary and industry experience.
According to research, recruiters do not spend more than 10 seconds on a resume during the preliminary stage. In that little time, they reject poorly-crafted resumes and go with candidates that had spent some time and effort in developing an exceptional resume.
Sometimes, only one factor makes a good resume a great resume.
A well-researched resume has dedicated sections for each type of information. Instead of stuffing irrelevant information sparingly, a winning sales executive resume takes strategic advantage of the space and makes the case for the candidate.
Creating A Professional Sales Resume 
There is no denying that creating a professional sales resume is a tough nut to crack. There are many sections to balance and leverage, not to mention known and unknown variables in the document. That's why many professionals opt for affordable resume writing services, such as Resume That Works, that can do all the hard work for them. We have a team of professional resume writers with ample experience and expertise in creating resumes that are suitable for the field.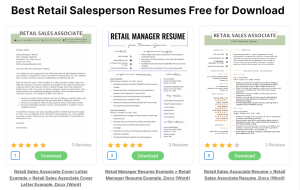 In this section, we will cover a comprehensive guide on how to create a sales resume sample by visiting all the sections.
Hooking Recruiters With A Solid Format
When it comes to the formatting and template of a resume, many professionals make the mistake of winging the step. Instead, they should be concerned about it because it will be the look and feel of the resume.
The template is the overall design and pattern of the way information is laid out in the document. There are two most common types of templates employed in resumes. One is based on infographics instead of description, whereas the other relies on basic description to get the message across.
There are advantages and disadvantages to both approaches, but it is ultimately the choice of the candidate to pick the most suitable template.
When it comes to formatting, it is about the margins, font size, style, and more. Whatever the specification they choose, it should be standard and legible for the readers.
Making A Headline With a Complete Name
At the top of the resume, candidates need to put down their complete names. This becomes the headline of the resume and helps recruiters easily distinguish one from the other. Many aspirants resort to using pseudonyms to avoid biased behaviors, but this could backfire. Whether they are applying for a position with more focus on minorities or focus on special demographics, they should stick to using their complete names. Once it is out of the way, candidates can get to the contact details.
Providing Necessary Contact Details
One of the mistakes that many aspirants make during creating a resume is providing inadequate or wrong contact information details. The best place to put it down is right under the headline. The most common types of contact details include phone numbers and emails. Since we are talking about a sales resume, many roles are specific to a geographic location. In that case, they should write the home address so that recruiters can consider the proximity of the aspirants in making their decisions.
Again, it is best to double-check the contact details before sending out your resumes to ensure interested recruiters can connect with you.
Acing The Resume Summary For Sales Executives
A resume summary is one of the most important and highly functional parts of the resume. It is a short passage or a long sentence, that covers three main sections of a professional's journey – academic qualifications, previous experience, aspirations, and ambitions for the future.
In many cases, recruiters and hiring managers rely on the resume summary to pick the candidate for the preliminary selection. That's why sales executives should put their heart into it and ensure that all the bases are covered.
In addition to writing a superb resume summary, professionals can try italicizing or making the text bold for better presentation. By connecting with a professional resume writing service, such as Resume That Works, candidates can buy a resume online that covers all the bases for them.
Highlighting Industry Experience With Achievements & Milestones
This is another one of the most significant sections of the sales executive resume. Since it is often a position that requires in-depth experience in the industry, candidates should highlight the relevant experience with much-needed force.
Instead of merely highlighting the responsibilities and duties that a professional has carried out at a specific position, they must add value to them through facts and figures. For instance, it is much better to share targets achieved and milestones covered compared to simply telling the recruiters about the nature of the job.
The pattern or format for this section is simple. Mention the company and designation at the top and then use bullets to cover each dimension.
Showcasing Relevant Educational Background
Candidates need a dedicated space to showcase their relevant academic qualifications. After highlighting the industry experience, they can use a section to mention the most immediate or relevant education. Many aspirants come with an MBA in Sales, Marketing, and so on. Others have a diploma in sales and customer acquisition. Whatever the relevant education a professional possesses, he must highlight it in this section.
The format of mentioning this is stating the name of the degree or the diploma. Then, the alma mater and the time of stay there should be covered. If the grades were outstanding, they should also be highlighted accordingly.
Making A Case For Sales Skills For Resumes
Salespeople need to have a certain skill set to ensure that all the bases are covered. They need to make their cases with both core and peripheral skills. The former includes communication, interpersonal, and sales skills. As to the peripherals, these include leadership, teamwork, crisis management, and empathy.
A desirable candidate should have a combination of both soft and hard skills to excel at the job. Instead of having them but not mentioning them, professionals should make a solid case for their merits and desirable characteristics for the job.
Adding Supplementary Sections
A supplementary or additional section in a resume is about telling different things to recruiters and hiring managers. It could be a linguistic skill or work experience in a certain vicinity that could help the sales initiatives.
Many aspirants use this section to tell and connect their abilities and education with the work at hand. Professional CV writers can help you with this section as it can be difficult for aspirants to ace it.
If you do not want to add much to this section, you can skip it altogether and remove it from the document. 
Complementing A Good Sales Resume With A Cover Letter
These days, recruiters and hiring managers to ask for cover letters with resumes. A cover letter is a compact document, much like a resume, but different in approach. It relies on description and paragraph structure instead of a bullet and points format. There are three major sections in a cover letter. It includes the opening with the educational and experience background of the candidate. The middle body is about the skills, aspirations, and ambitions of the aspirant. The closing lines can sign off with a call to action to the recruiters for setting up a meeting or a call to discuss things further.
There is no need to simply paraphrase the contents of a resume in a cover letter. Sales executives can add immense value by divulging things that cannot fit the structure of a resume.
In the end, both cover letter and resume need editing and proofreading to get the best iteration of them. A resume editing service can save you a lot of time and effort in this regard.
Final Thoughts
Sales executives are entrusted to meet with prospective clients, educate them about the portfolio, and then close the deals. To get a job in a well-paying firm, they need a well-crafted resume. There is no shortcut to that unless they get a professional resume writing service in their corner. Still, we have shared a complete guide on how to create a resume for sales executives. For those who cannot create a custom resume, Resume That Works is a trusted partner for them.