Field service technicians are considered to be the sweat and blood of the industries that are dependent on hardware working at full pace. They are highly trained and qualified professionals who are entrusted to fix things and make sure that business goes on with no hiccups and delays.
There is a big difference between a conventional repairman and a field service technician – site! The latter goes to the site of the customer and performs troubleshooting and resolution of the issue, often in one visit. 
Since the job is rife with sensitive work and details, it pays quite handsomely and professionals with ambitions and the right skillset can work up a good payday.
So, if you are a professional who is looking for a role in the industry, this article is for you as we go into;
Job responsibilities and skills of a field service technician

Ideal qualities in one

Resume tips for both experienced and non-experienced professionals
Without any further ado, let's explore all these dimensions of the role in detail.     
Responsibilities Of A Qualified Field Service Technician
Professionals are expected to meet the quality standards of customers in all aspects, from reaching a site at the stipulated time to being prepared for anything at all. This allows them to provide maximum satisfaction resulting in better pay and other benefits.
To better understand the role, here are some of the typical responsibilities that a field service technician is entrusted with on a day-to-day basis.
The foremost responsibility of a professional is to provide customer support during field visits or dispatches during crises

Make sure that the workflow is streamlined with no overlaps in the schedule

Play a proactive role in managing all the installing, replacing, and repairing tasks on-site

Troubleshoot errors and bottlenecks in the system and come up with handy but permanent solutions  

Get the paperwork in order, especially services reports should be filed accordingly

While going on-site, make sure to operate the vehicle as it should be and use automated solutions whenever possible

Observe company standard operating procedures and protocols at all times

Collaborate with the company's technical team to share useful information about processes and operations

Most important of all, erect lasting relations with clients through soft and hard skills 
On most job boards, professionals will find some version of these responsibilities and duties in the field service technician. So, it is best to nurture them and maintain an overall professional outlook on the role.   
Skills & Requirements
Whether you are looking for an experienced role or a fresher one, companies need skills that can directly add value. Since there is only a little learning room on the job, professionals must take into account the nuances of the job before applying.
Here are some of the most in-demand skills and job requirements for field service technicians in most industries.
Hands-on field experience with a reputable company or agency

The technician must have the ability to troubleshoot, test, run, and repair things successfully on the go

He should be literate in industry literature and terminology

Must have the aptitude to learn on the job 

Must be able to work in revolving shifts and adjust easily to new schedules

Have hands-on experience with modern mobile tools

Considered to be a nice have, having a professional degree or certification is a big plus
Ideal Qualities In A Professional
Apart from rigid responsibilities and skills criteria, field service technicians must have their fair share of soft skills. There are many reasons why experts stress that. No matter how core technical this job can get, professionals need to interact with both customers and co-workers in a high-paced environment. So, this calls for a big load of important people skills, if they want to make big in their career.
Here are some of the qualities that professionals should possess for a better career trajectory.  
Strong Verbal & Written Communication Skills
From taking the distress call from a customer to informing relevant teams to getting there on time, everything revolves around solid communication skills, both verbal and written. Professionals who are adept at anticipating and understanding the needs of the clients better can handle more complaints in a given time with no backlogs of issues to deal with.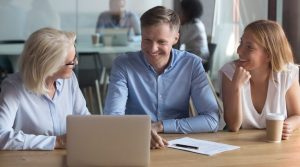 Communication skills are hailed as a must-have in all industries but the importance of these is not lost in this one too. The case can be made that soft skills get the work initiated even before a technician reaches the customer's site. 
Sound Technological Prowess
For a field technician role, this is a no-brainer. Technology is moving at such a pace that professionals in the industry have to actively look for the developments and learn them on their own. Field technicians can learn a great deal about new repairing and troubleshooting apparatus and methods to make sure they are putting their right foot forward.
Competition is either a step behind you or a step in front of you. By having sound technological prowess and acumen, professionals can streamline operations and processes in record time. This leads to the next quality in field service technicians.
Punctuality & Time Management
Everyone has heard the old cliche "time is money". In this field where money is earned on the clock, punctuality and time management are a must-have. Customers hardly wait for a company representative to take his time. In most cases, they dial the number of the competitors and have them on site. This brings both a bad name and loss to the company.
So, these are some of the most essential qualities that professionals must have to succeed in the industry. 
Efficiency
There are many ways and methods to define and calculate efficiency. In this field, it is about a professional being handy at a job. For instance, if a technician is taking an hour to finish a job and the same job is finished by another technician in 30 minutes, who would get the call the next time customers run into a problem? On the other hand, the company can have more and better resources available without making a run for them.
Efficiency in the field service industry is the key to success and growth. Professionals need to harness and hone it to stay competitive in the market. 
Ironically, getting efficiency numbers up is not a hard task. All they have to do is nurture and promote all the other qualities in this section and efficiency will follow the suit.     
Latest Training & Know-How
This is, again, an ideal quality in a professional whose job is to get to the location of the client and get the hardware up and running in the least possible time. First, companies only hire professionals with modern expertise. Second, they all spend time and money to keep their teams trained on the latest and most important developments in the industry.
Still, it does not hurt to have a mindset or aptitude to learn new things on the go and add to the overall value and promise that your company is offering.
Honing Field Technician Resume According To Market Trends
In this sector, finding a dream job takes two important things: the right skill set and the cool and calm mindset. 
Depending on the market and its expectations, professionals have to hone their skills and showcase them in the best light on their resumes. Again, simply having the skills and the winning resume is not going to cut it, if there are no eyeballs on it.
So, here are some of the points that professionals must keep in mind to secure a job as early as possible:
Connections and networking – word of mouth is more effective and goes faster than a marketing campaign. It is because people are not skeptical about it and accept it as coming from one of their own. So, professionals must connect with other people both via the internet and in the real world. For the former, platforms like LinkedIn, Glassdoor, and other professional websites are a great start. Still, this does not mean avoiding in-person networking chances. Many professionals are still old-fashioned and prefer one-on-one things.

Digging deeper – just like on a job, professionals dig deeper and do not stop until they find the solution. In the same way, while looking out for a job or an opportunity in your dream company, they should not stop anywhere. Even during financial crunches, companies hire new staff. Often, it is to keep on knocking at the door until it opens with a bang

Persistence – Many field service technicians or aspiring ones think that their work is finished once they ship out applications. Often, hiring managers get into other businesses and forget about applications. There is no harm in politely following up with a prospective employer. Many consider it a favorable trait

Take control – job search can be frustrating and there could be many instances when you would think to give up. This is the ultimate test. No matter how many times you blew up an interview or even failed to show up for any reason, it is best to take control of the situation and keep on moving
In the aggregate, employers love these traits on top of professional acumen and experience. So, make sure to add all these traits to your resume after nurturing them for real.        
Tips For Professionals With No Field Experience
Writing a resume for a field service technician with no relevant field experience may seem like a lost cause. Many aspirants get frustrated and do not put much effort into the process, which becomes counterproductive for the whole exercise to get a job.   
Here are some tips to help professionals compose a winning resume, even in the absence of experience:
By getting creative, candidates can draw parallels between their previous roles and the ones they are seeking in the field. For instance, if someone has worked in a repairing shop, he can highlight that experience by using relevant nomenclature and shedding light on the shared responsibilities

In addition to this, they can showcase qualifications and voluntary work that was similar to their potential role in the company. Since the job of the resume is to make the case for the candidacy of the bearer, there are many ways to add value to that and stand out from the crowd   
FAQs
What are the job duties of a field service technician?
Field service technicians keep the systems up and running in a production environment. They make sure that things that need fixing are fixed on time to avoid bottlenecks in the operations. Also, they keep the stakeholders updated on current situations.  
How can you distinguish an average service technician from a great one?
Many qualities and traits can stand out as a great field service technician from an average one. Without any doubt, they are punctual and have excellent time management skills. Through superior communication skills, they connect with customers and get to the bottom of the situation. Then, utilizing superior technical and troubleshooting skills, they get the system running in the least possible time.   
Do field service technicians work alone?
In most cases, technicians are limited to technical work. They work closely with the representatives, especially in big companies with dedicated staff. The representative takes the calls and informs the technician about the situation. In turn, he gets to the customers' locations and resolves the issues.